Loreal Infallible Eyeshadow!!!
So I think its pretty obvious what this is going to be... a review! I ended up getting a great deal on the Infallible shadows at my Kroger for only $3.18 each! I went ahead and picked up 4 of the shades I was most interested in to give them a good once over! I gave them a good two weeks of wearing them everyday and using different methods of applying them to give you all the best review possible! So without further adieu lets get to it!
I'll have to admit I was a little unimpressed with the initial shade range of these shadows. There are only 11 shades in my display and several of them are super similar! Of these 11 shades only 2 were matte and the rest very shimmery. Also there were 3 that were all very light cream based colors, 2 were similar browns, 2 were blues. The shades that I picked up were Midnight Blue (dark iridescent navy blue), Perpetual Purple (deep iridescent purple), Sultry Smoke (medium matte gray), Iced Latte (champagne). Out of all of the ones I own the Iced Latte is my absolute favorite just because it is such a wearable all over lid color for day. It's one of those colors you dont have to think about and it goes with everything!
When they say 24 hours they mean it!!! I had swatches on my hand to test the longevity of these under different circumstances. These swatches survived on my hand through the entire day and night and even survived encounters with water! The next morning the swatches were still there and only mildly faded considering how long they had been there, how much they had been rubbed, and getting wet! Now for on the eyes! I wore every shade I own at least twice, once with primer, once without, to test the wear on eyes. Without primer the shadows will begin to show signs of creasing before the end of the day. If you arent going to wear them for an entire day then you can get away with no primer but if you're wanting this to last from morning to night with no creasing a primer is necessary. The colors only have very minor fading by the end of the day and hold up very well in varying climate and weather conditions!
I tried several ways of applying this eyeshadow including with a brush, sponge applicator, and my finger. I ended up getting the most color pay off with just my finger followed by the sponge applicator. Using a brush causes you to really "dig" the brush into the product and doesnt seem to apply it as evenly regardless of technique. Also the darker shades like the Midnight Blue and Perpetual Purple end up looking muddy and lose their irridescent qualities when gone over with a brush. This also makes using various different colors in one look a little challenging. It can be done but its often more work than its worth. I think these shadows were more meant to be one solid color over the entire lid area as depicted in all of the ads. Because of the simplicity of use of these shadows and the fact that you are almost forced to use them as simply as possible these are great for quick, easy, get-out-the-door looks!
Swatches
Iced Latte, Midnight Blue, Sultry Smoke, Perpetual Purple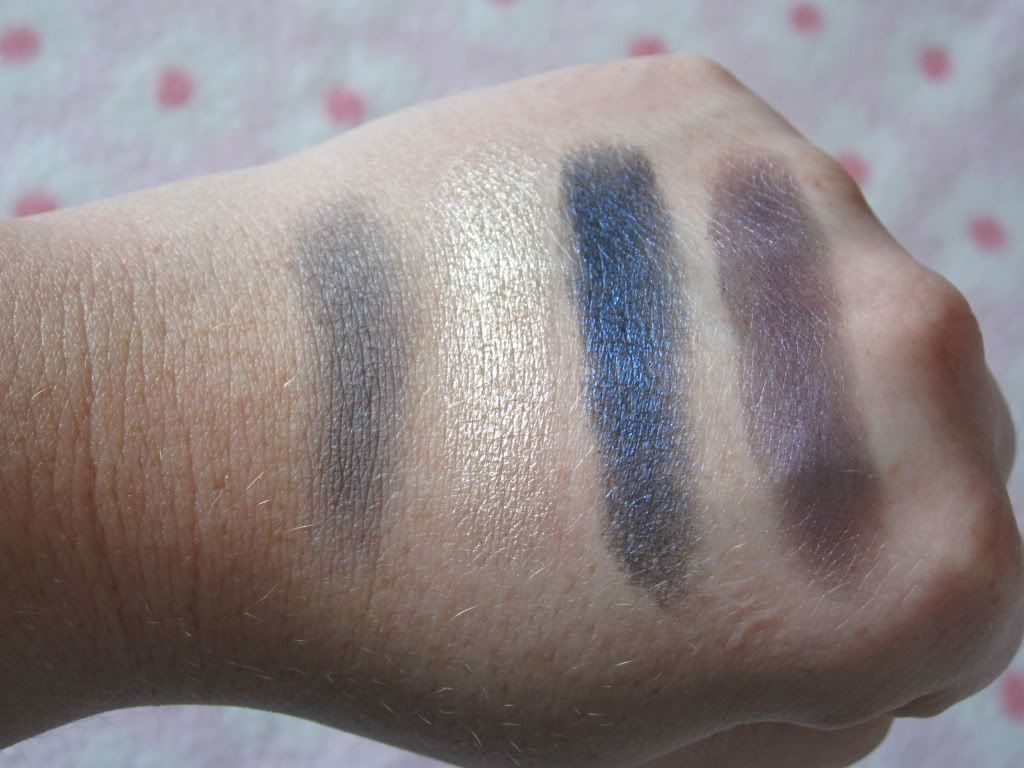 Sultry Smoke, Iced Latte, Midnight Blue, Perpetual Purple
I love these shadows! The simplicity of use, the pigmentation, the longevity, all of these are just phenomenal! I feel like these would be perfect for travel for short trips or when you just need simple looks because you need no tools and just a primer and the one color you want to wear. I do wish that they had more shades available and more than just two matte colors. I know that the new spring/summer collection included a very pretty green and pink Infallible shadow but these are limited edition. I wish they would be put into the permanent collection because the pink seems very promising as well as the green! The only cons I have with these shadows is that they are pretty limited to just using one shadow all over because you cant really use a brush all that well with these products and some of the shadows are drastically changed when you take a brush to them! Even though I bought mine on a very good sale I feel like even at full price these are still very good shadows for someone who needs something quick and easy.
* Finger painting is best!
* Catch them on sale if you have a Kroger!
* Brushes may change color payoff!
Hope you found this review helpful!