Philosophy Makeup On The Cheap!!!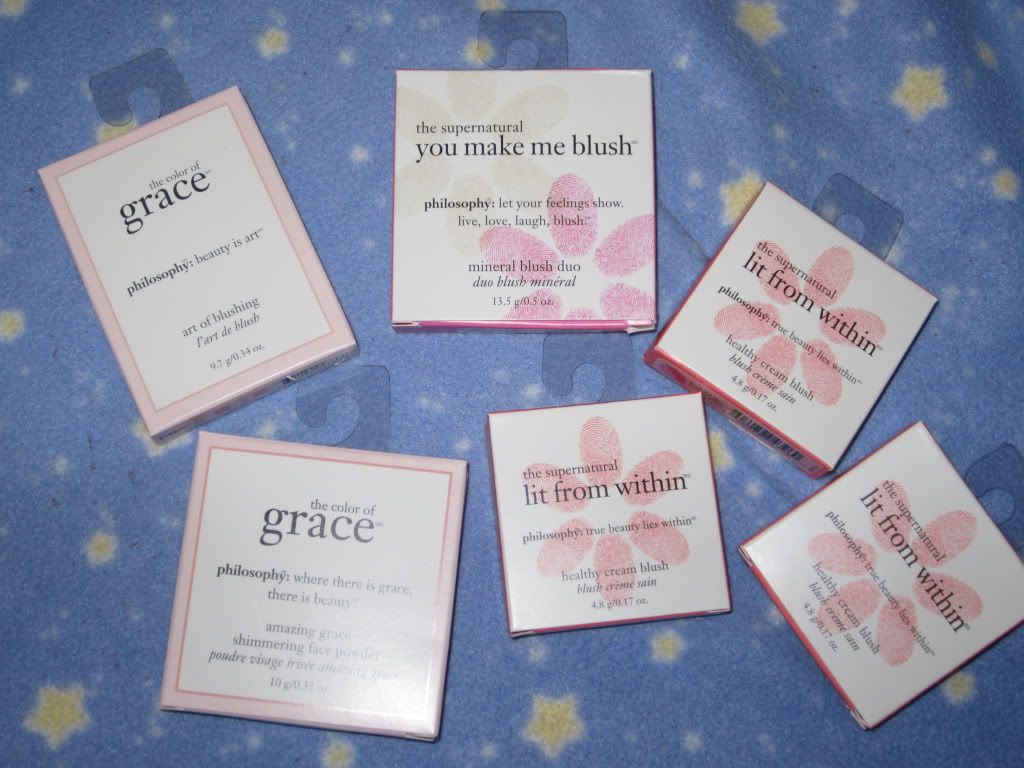 I feel its acceptable for me to assume that everyone loves a good deal. I think it is also safe to assume that if we can get highend makeup for a ridiculously low price we are all on board to do so!!!
Most of you may know the brand Philosophy. It is the wonderful company that has given us such greats as Amazing Grace, Hope in a jar, and Purity cleanser. While most people know of their skincare and bath product line few realize that they also have a makeup line as well! I have often seen their cosmetics shown on tv programs such as HSN and QVC but rarely have I noticed more than lipglosses in any actual stores.
A friend of mine on a beauty forum that I frequent brought it to my attention that she had actually found some Philosophy makeup in her local Biglots for...wait for it.... $3.00 DOLLARS!!!! I rushed out as soon as I could to check to see if mine carried these products like hers. I'll admit that I was a little skeptical about my Biglots carrying them just simply because I am so far out from the city and the nearest store that even carries Philosophy products is 45 minutes away. Low and behold I was in luck though! My Biglots had several products, all there, pretty as you please and only $3.00! I picked up one of everything in every shade they had and headed for the counter!
I was able to nab 3 Lit From Within cream blushes in the colors Look On The Bright Side, Feel Warm All Over, and Bare Your Soul, as well as The Color Of Grace (a luminizing powder), You Make Me Blush bronzer blush duo in Hugs and Kisses, and lastly The Color Of Grace blush trio in Pink Dreams. I know that there are varying products depending on your Biglots. These were just the ones that mine carried but I've seen and heard other girls say that they had luminizing liquids, bronzers, and other products at theirs that mine didn't carry.
I haven't yet gotten a chance to try these out but if they are anything like the skincare and body products I know they are going to be fantastic! I definetely recommend going and picking some up especially at this price! I'm unsure yet if Philosophy is going to be discontinuing their makeup line or these products. I haven't found anything online about it yet but I will keep searching and keep you lovelies updated. I know that Dermstore is still selling these items and retailing them at $23-$35!!! Thats an imense savings!!!! I'm also going to be going back this week to pick up a couple of things to put into an upcoming giveaway since this is such a great deal for a highend item!
I hope that all of you are able to get your hands on these amazing deals! If you do then please leave a comment down below and let me know what your Biglots had and what you were able to pick up! It will be interesting to see what different stores are carrying! I hope that you all found this mini post informative and if you would like to see swatches or reviews of any of these products just let me know.
Graceful and Philosophical love your way!