T.V. Character May Collab!
As part of a group on fb called Glamazon we have monthly collaborations for different makeup looks. It isn't a contest or mandatory its just something fun we all like to get together and do and share with each other. This month the theme for the look was Television Characters. It could be a reproduction of a look on a character or something that was just inspired by the show and not necessarily anything the characters actually wore. Being as I dont watch much tv that isnt learning based or reality based this was particularly challenging for me. I finally settled on two different looks though. One my 3 year old daughter came up with and one me and friend decided would be neat to try! Without further adieu lets get on to the looks! :)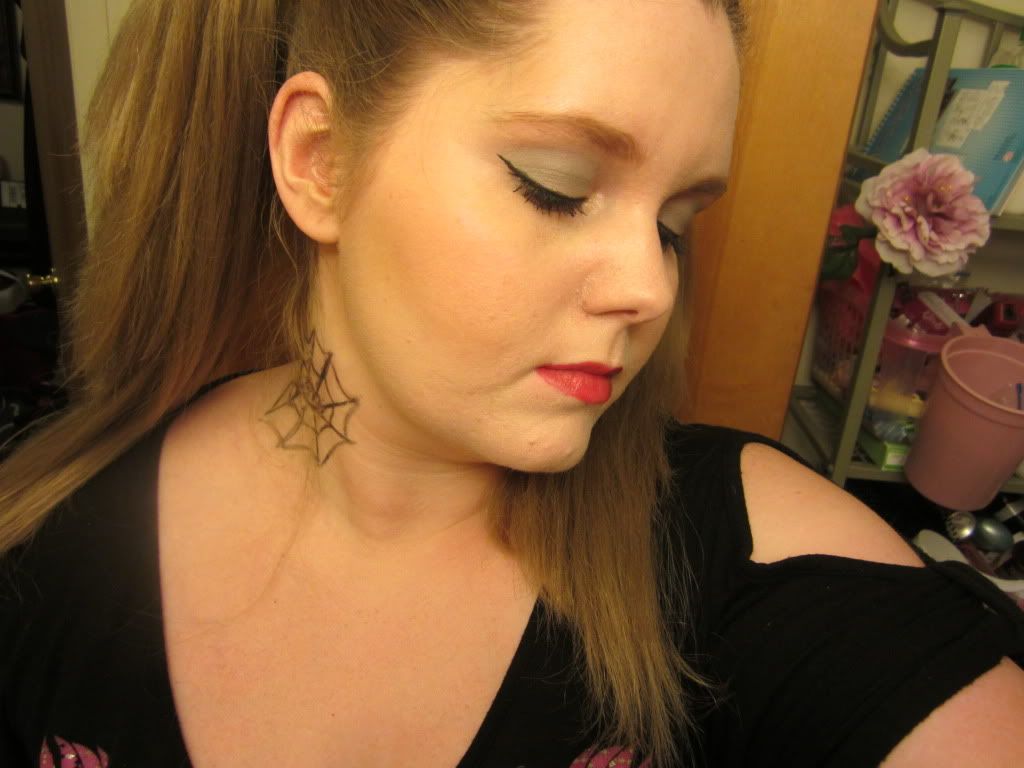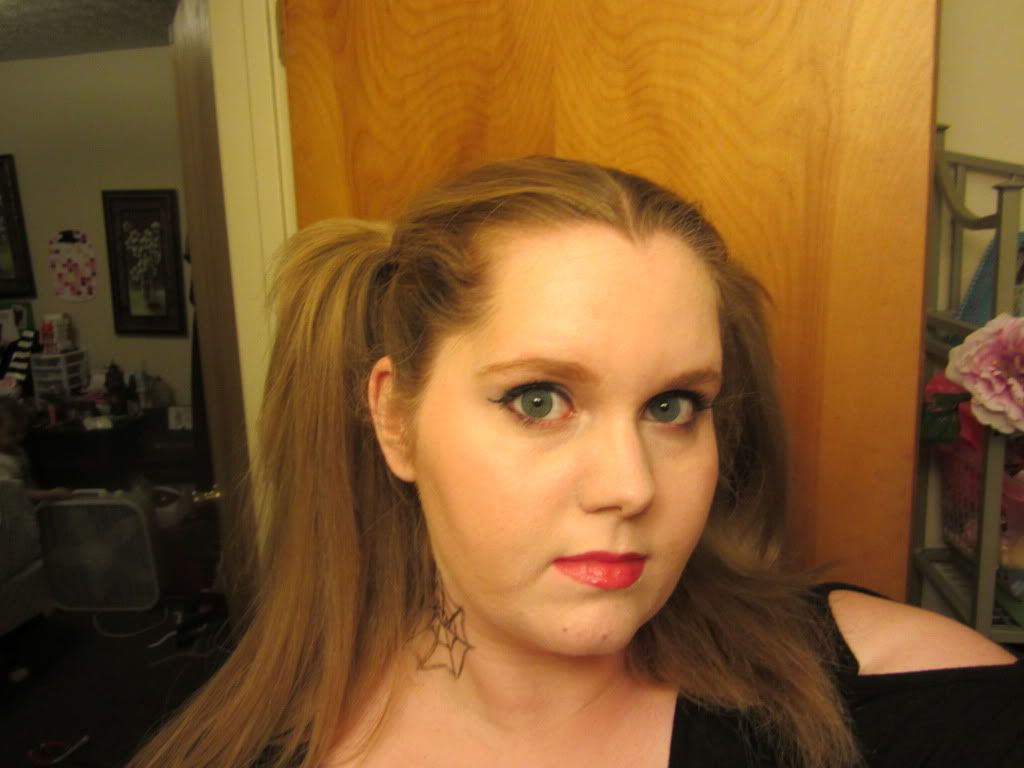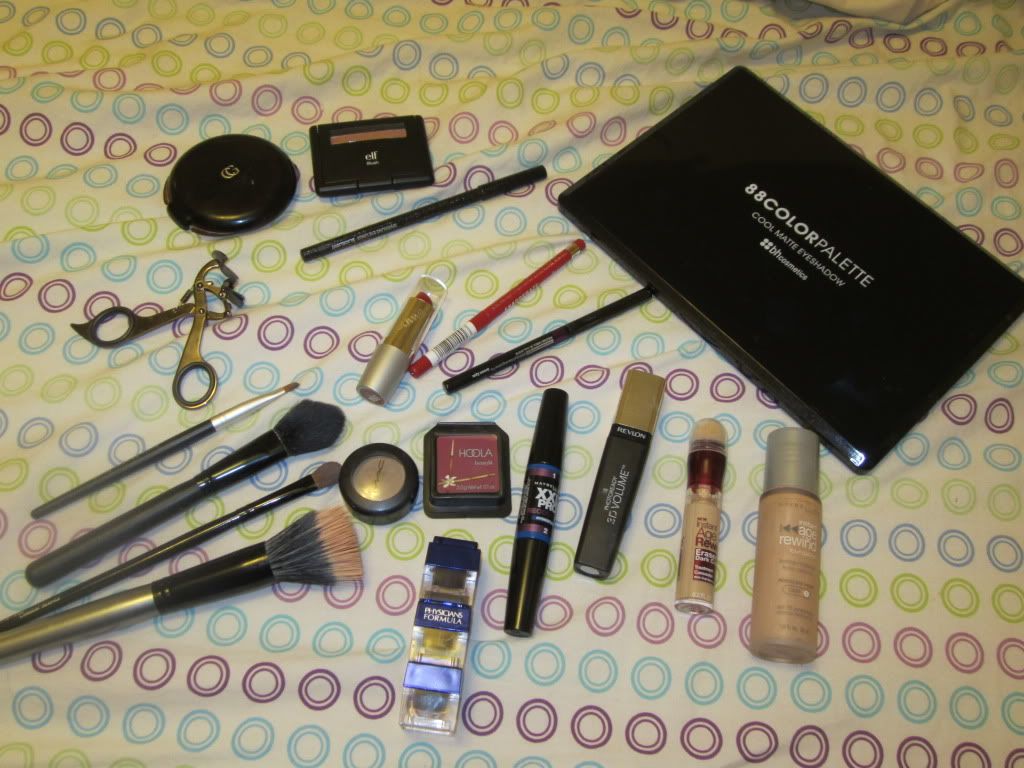 1. Maybelline Age Rewind Foundation Porcelain Light
2. Covergirl Olay Simply Ageless Eye Concealer #205
3. Maybelline Instant Age Rewind Eraser Neutralizing Dark Circle Concealer
4. MAC Mineral Skin Finish Natural Light
6. ELF Blush Mellow Mauve
8. Maybelline XXL Pro Curl Waterproof Mascara
9. Rimmel Exaggerate Lip Liner Red Diva
10. VS Very Sexy Sparkling Eyeliner Blacklight
11. BH Cosmetics 88 Cool Color Matte Eyeshadow Palette
12. Physicians Formula Gel Liner Black
I used the Maybelline Age Rewind Eraser on my under eye and then used the Covergirl concealer on my acne and my hyperpigmentation. I then used the Maybelline Age Rewind foundation all over my face, ears, neck, and chest since it was several shades lighter than my skintone. I set the foundation with MSFN in light. I countoured my face to make it appear slimmer with the Benefit Hoola bronzer and then dusted the ELF blush in Mellow Mauve on the apples of my cheek for slight color. On the eyes I used the light gray and white shades from the BH Cosmetics 88 Cool Color Matte palette blending them well all over the lid and crease. I then did a winged liner with the Physicians Formula black gel liner from the Blue Eyes stack. I then curled my lashes with the Urban Decay eyelash curler and coated them vigorously with several coats of both the primer and mascara end of the Maybelline XXL Pro Curl Mascara. For the lips I used the Rimmel Exaggerate lip liner in Red Diva all over the lips. I finished off by filling in my brows with the MAC eyeshadow in the color Omega. For the finishing touch of Abby's signature spiderweb tattoo I used the Victorias Secret Very Sexy Sparkling Eyeliner Pencil in the color Blacklight.
I had a lot of fun doing this look and it was definetely out of the norm of the type of makeup I wear. I will rock a red lip on occasion but not often this is something that Abby rocks on the daily! Gotta love her edginess and her fun nature! I had a lot of fun doing this collab and cant wait to do more like it!
My Daughter's Pick
Since I was having such a hard time deciding on a tv show to do I decided to ask my little girl what she thought I should do. Of course she picked one of her favorites Strawberry Shortcake. I figured it would be a fun and exciting look to do and she would enjoy helping me and watching me put it all together...so just for fun... here's my take on Strawberry Shortcake. :D