My Massive Haul!!!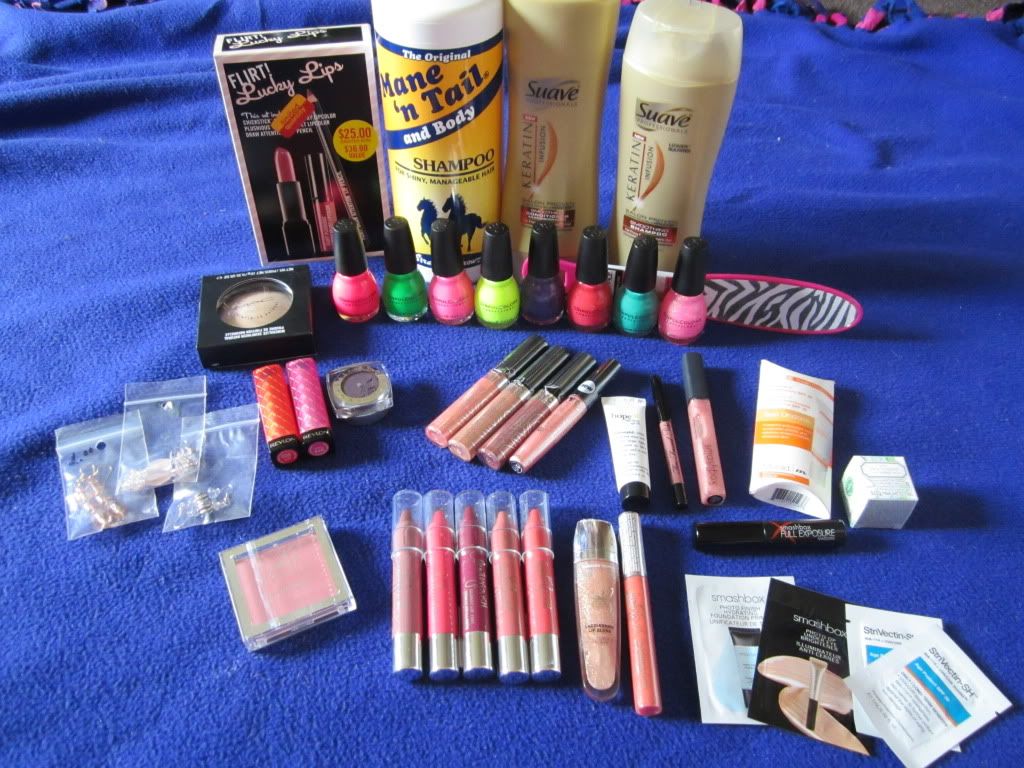 Ok so I think the title of this post makes it pretty self-explanatory! This is obviously a haul! For whatever reason the past couple of days I have just gone absolutely BANANAS buying beauty products! I've had a lot of loyalty coupons to use this weekend and a few good sales to shop so I got a little carried away but oh well... My pocket book loss is your reading and viewing gain! :)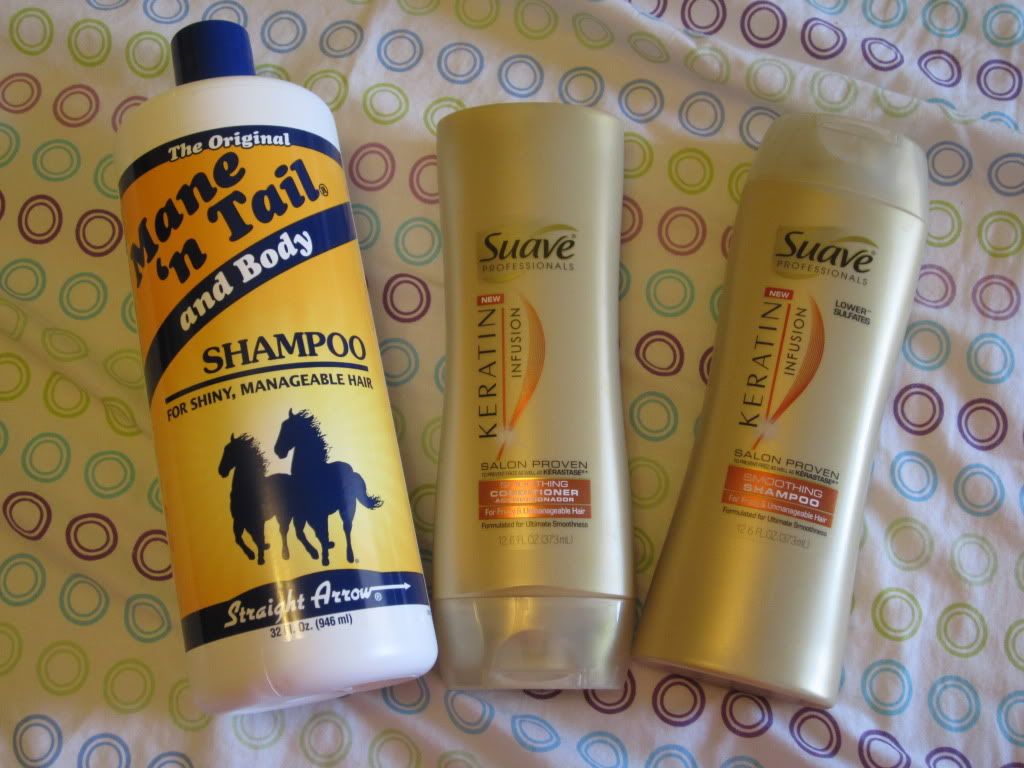 I was in need of some shampoo and conditioner and decided to try something that a lot of people had been asking and talking about on some of the beauty forums I frequent. I grabbed the Suave Keratin shampoo and conditioner and only spent about $3 each on them. I figured if I ended up hating them at least I didnt spend too much. I plan on doing a review after a couple weeks of use so stay tuned for that! I also wanted to grab some of the Mane and Tail shampoo and conditioner since one of my friends swear it helps their hair grow. My Walmart only had the shampoo so I went ahead and picked it up and will probably get the conditioner later on!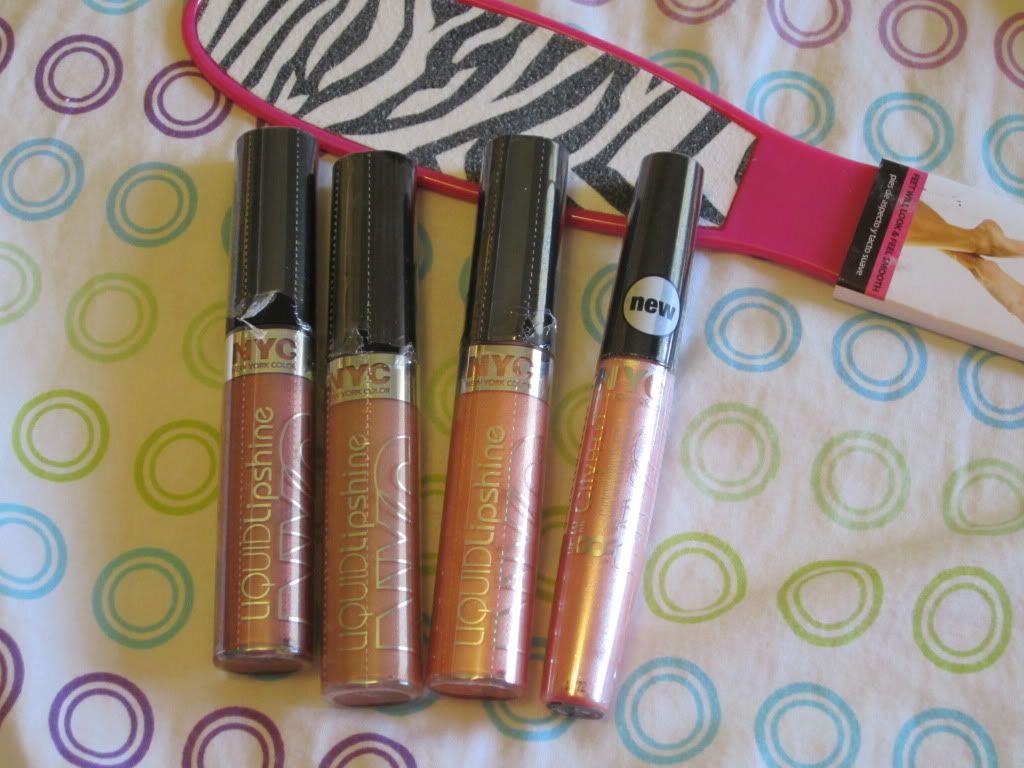 (Big Apple Spice, Nude York City, Brigton Beach Peach, Everlasting Blossom)

(from top Nude York City, Big Apple Spice, Brighton Beach Peach, Everlasting Blossom)
While I was at Walmart I also got sucked into getting some lipglosses! I had intended to buy ONE Revlon lipgloss but instead walked out with FOUR Nyc lipglosses...how that happened I still dont know! I picked up 3 Liquid Lipshines in Big Apple Spice (a deep brownish wine), Nude York City (a pretty caramel), and Brighton Beach Peach (a pinky peach) as well as one of their new 8hr City Proof lipglosses in Everlasting Blossoms (light frosty pink). As I was heading for the checkout my eye caught these pretty feet files, emery boards, and nail trimmers in funky colors and patterns and I just had to get one!

Gloss= Deep Crush, Lipstick= Dainty, Liner= Sugar Plum

Next I headed off to Kohl's to check out the new Elle and Vera Wang makeup... I swatched but did not buy because honestly I am very VERY unimpressed! But thats a topic for another blog post. What I DID end up buying with my $10 gift card was an awesome set from FLIRT! They had a few sets and packages marked down 50% off and I came across this little lovely containing a fullsize lipstick, gloss, and liner for $12.50! You can't beat that, especially when just a lipstick is $12. For $2 and change out of pocket I think I snagged a pretty awesome deal!!! :)
I actually made a couple of trips to Walgreens since they had a wonderful sale on Sinful Colors nailpolish! I just recently started getting into painting my nails and I obviously needed to start a nice little collection of colors and for .99 a bottle you just cant find a better way to get variety on the cheap! When it was all said and done I nabbed up 8 of these! I will say that if you plan on getting the Neon Melon or Irish Green use a couple coats of white as a base and you'll only have to use one coat of color. Otherwise you're going to end up with 20 coats of polish and it will still be streaky and sheer!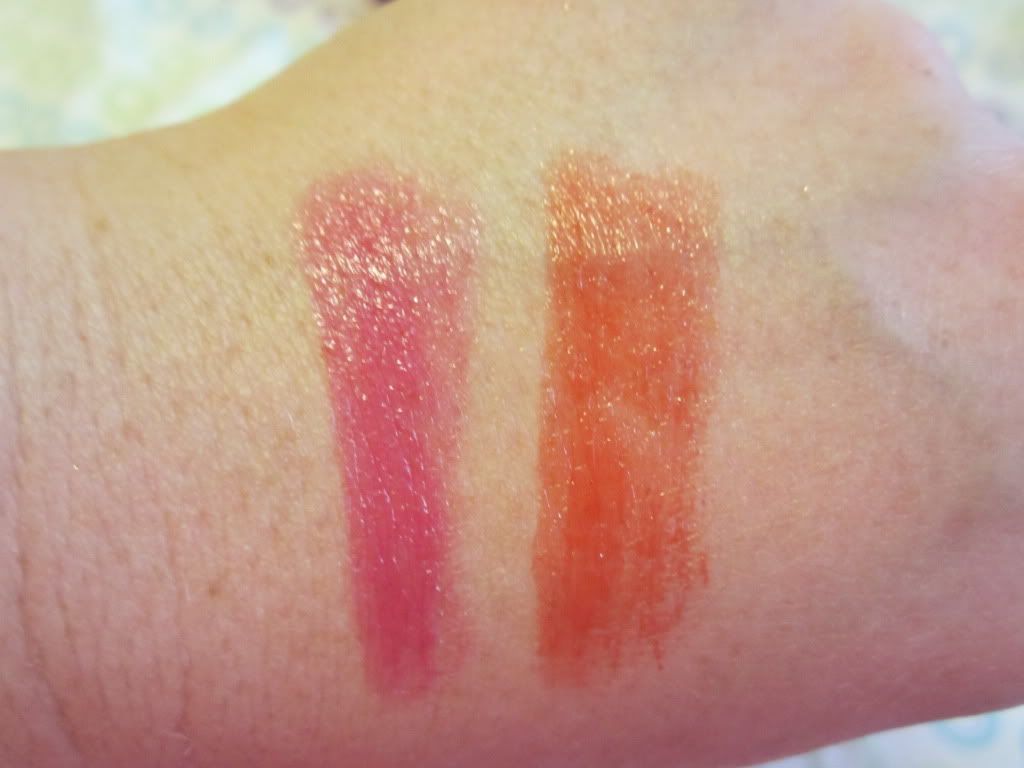 Candy Apple and Lollipop

Since I had some ECB's from CVS that were about to expire I figured I would use them on the Revlon lip sale that was going on and pick up 2 more lip butters! They didnt have the shades that I had specifically went in for but since I'm obsessed with these and want the whole collection anyway it didnt really matter which ones I picked up (lol)! I settled on Candy Apple (an orangy red) and Lollipop (a bright fuschia) and only paid $1 each out of pocket for them!
Making a long 45min trek to my nearest and only MAC, I just had to pick up the most talked about powder product ever...The Mineral Skin Finish Natural or MSFN for short! Since I usually use a powder foundation in the summer and I was out of my Bare Minerals I figured I would give this a try! It leaves the skin still looking luminous which is great since I'm not big on matte finishes. The lady at the counter let me try some on to make sure I liked it and even let me test out the Studio Sculpt but I opted for the MSFN!
While at the Macy's in which my MAC is located I was solicited by one of the ladies at a kiosk to apply for a credit card. Now I need a Macy's card like I need a hole in the head but she said that even if I didn't get approved I would recieve a free fullsize lipgloss and several other goodies! Given that this particular kiosk was a mashup of Smashbox, Toofaced, Benefit, and Philosophy products I couldn't see how I could go wrong so I applied! The bag of freebies was AMAZING!!!!! It contained 4 regular packet samples, 5 deluxe size samples, and 1 fullsize lipgloss. The packet samples were for Smashbox Photo Finish Hydrating Foundation Primer, Smashbox Photo OP Under Eye Brightener, and 2 Strivectin Age Protect SPF 30. Deluxe samples were Benefit It's Potent Eye Cream (in a beautiful glass jar!), Smashbox Full Exposure Mascara, Philosophy Hope oil-free moisturizer, Murad Sun Undone moisturizer, and Too Faced Perfect Lips liner in Perfect Nude (it says "the only lip liner you'll ever need" and I agree, so pretty!). The fullsize lipgloss was Smashbox Lip Enhancing Gloss in Sweet (a peachy pink with gold glitter). I think its a little sad that I got all of this for FREE just for applying for a credit card and yet so many people are signed up for subscription services and pay $10+ a month and sometimes never get this many NICE goodies!
I think my biggest score was at Victorias Secret! I still had a Reward card to redeem and was actually planning on just getting their setting spray...that is until I laid eyes on the new Beauty Rush Jumbo Lip Pencils!!! OMG!!! I swatched them and fell in love so much that I ended up buying all but one of them!!! They're like a cross between Tarte Lipsurgence and Revlon Lip Butters. They don't have quite as much pigmentation as some of the Lipsurgence pencils but they all have the moisturizing glisten like the Lip Butters! I'm rarely ever impressed by VS makeup but this totally caught me off guard! They're 2/$12 or 4/$20 I had 5 of the pencils so I picked up some of their other new products to finish off an even 8.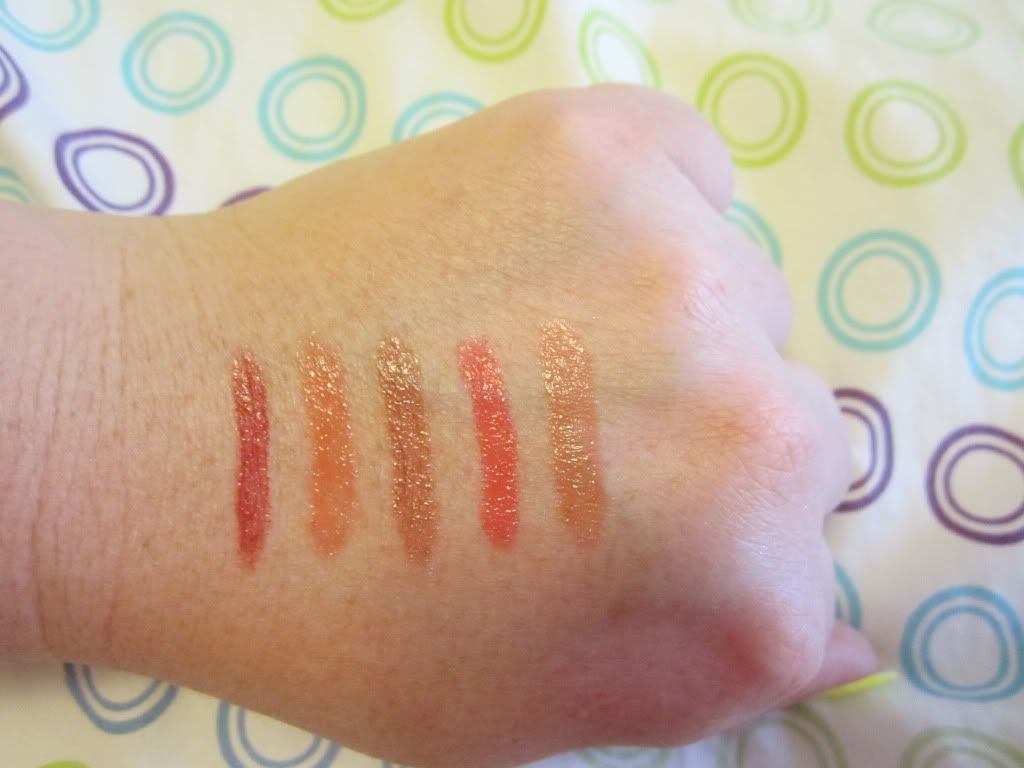 Blush Blush, Sun Goddess, Better Than Bare, Manic Pink, Boudoir Pink

I picked up the lip pencils in Sun Goddess (pretty peach), Manic Pink (bright neon pink), Boudoir Pink (pinky nude), Better Than Bare (nude), and Blush, Blush (pretty wine). I picked up the new Colorshine Gloss in Life's A Peach (wearable orange) and the new Dazzleshine Gloss in Dazzling Tropics (clear gloss with gold glitter).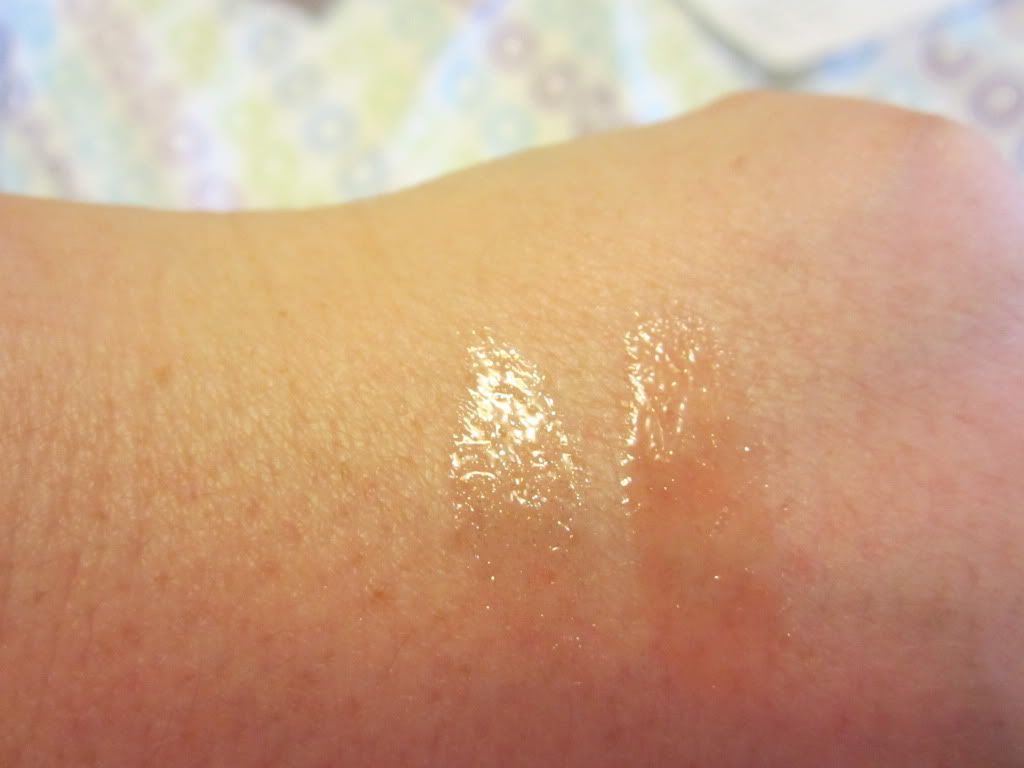 Dazzling Tropics and Life's A Peach

I also decided to try one of the Beauty Rush Blushes in Dollface which is a very bright but wearable pink! If you love the Tarte Lipsurgence or Revlon Lip Butters you NEED to goto VS and try out these jumbo pencils they are to die for and the new glosses are amazing as well and not nearly as sticky as their previous formulas!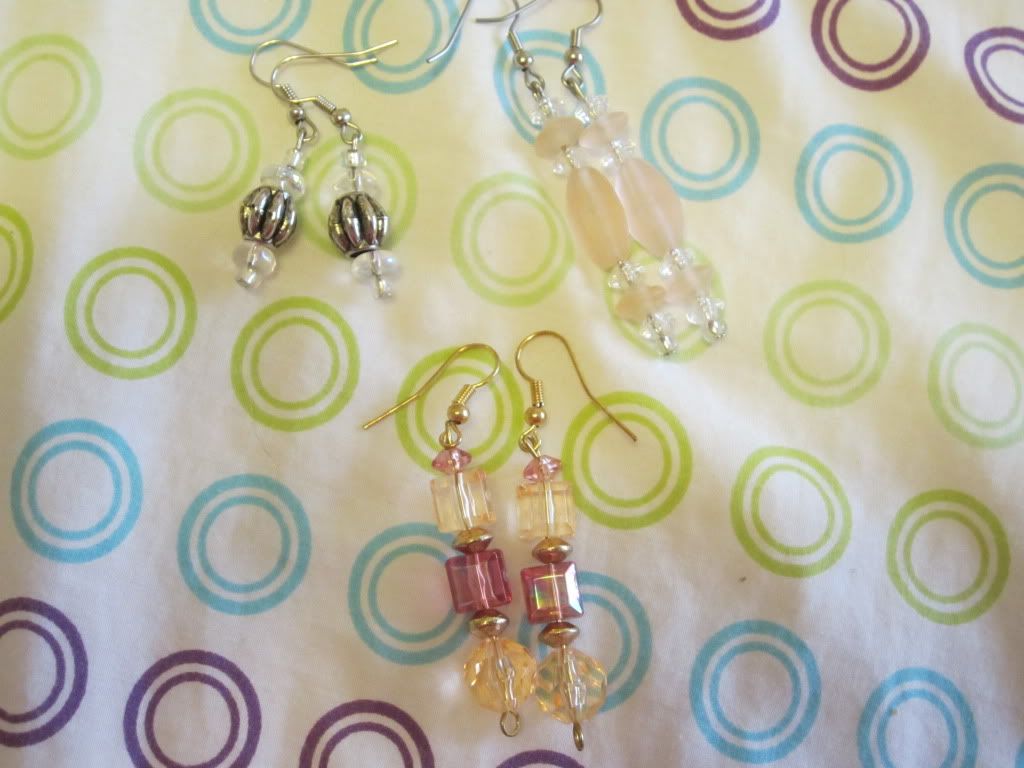 The last thing I picked up that I want to share are 3 pairs of earrings from my Church's Yard Sale. There is this wonderful woman at my church who makes some really beautiful handmade jewelry and I was able to get each of these earring sets for only $1 each! I'm planning on doing a giveaway when I hit 50 subscribers and I'm going to include an entire set made by her that will have matching necklace, bracelet, and earrings as well as some other goodies!
Well that concludes my MASSIVE haul! I hope you enjoyed looking it over! If you have any questions about any of the products please feel free to leave it in the comment section below and I'll be sure to answer!

Haulacious hugs lovelies!