March Favorites!!!! :D
If you couldn't tell from the title this is going to be a post on all of my beauty favorites for the month of March. These are going to be products that I've bought in March or just recently started really using and loving in the month of March. So onto the FAVES!
I had a crazy fluke allergic reaction on my face this past month from a bad skincare decision so needless to say my entire skincare regime got an over haul! There were a few products that I really loved but because of my allergic reaction and having to meet with a dermatologist they had to be replaced in my routine with prescriotion items. Anything that is in my CURRENT routine will be noted but thats not to say I dont still LOVE the ones that aren't in my routine, they just had to be temporarily replaced. :)
Burts Bees Radiance Cleanser
This cleanser is so milky and creamy! It contains royal jelly and is suppose to help with evening skin tone and adding moisture. I could definetely tell a difference in my skin's color after washing my face with this. My hyperpigmentation was reduced slightly and it was just very calming to my skin. I dont use my facewash to remove my makeup so I cant speak for how well it removes makeup but it definetely gets the dirt and grime off!
Sephora Instant Moisturizer
I was a huge fan of the First Aid Beauty Repair Cream because it was so super hydrating but the problem was it was so thick it took a long time to really soak in so I mainly used it at night. On a trip to Sephora I spoke with one of the sales women if they had anything that was as hardcore as that but would absorb a little better. She sent me home with a sample of this and a few days later I went in and purchased the fullsize bottle! It definetely delivers some hardcore moisture easier than the thicker cream of the FAB Repair Cream. A little goes a long way with this too!
Olay Total Effects 7 In One Eye treatment*
I think this may be working its way into my Holy Grail department. I've never really been able to find an eye cream that I felt like really did anything for me...that is until I picked this one up! It combats dark circles AND wrinkles whereas most eye creams only target one or the other. Its also moisturizing to the point where it has even helped a little with my dry eye that I sometimes wake up with. I've noticed a lightening of my dark circles and even though I dont currently have wrinkles I do want to take preventative measures now. I still currently use this and I dont really see a reason for me to stop anytime in the near future! Love this stuff!!!! I use it am and pm!
Purpose Gentle Cleasing Wash*
This is my current facewash and was reccommended to me by my dermatologist. I love it not because my dermatologist reccommended it but because it has really calmed my skin from the painful dryness and hasn't stripped it down since it is soap free. I've noticed my breakouts have lessened as well. I also suffer from sensitive skin so even when I dont have actual pimples I may still get skintone little bumps on my face so even though it may look smooth it certainly doesn't feel smooth. This facewash has given me the smoothest FEELING skin I think I've ever had!!! It also doesnt sting my eyes if any happens to run a little to close to them. Again I use a makeup remover before I wash my face so I cant speak for the makeup removing ability of this wash. Also this is in my current skincare routine and I use it day and night.
Neutrogena Healthy Defense Daily Moisturizer SPF 50*
This is another item my dermatologist reccommended and I'm completely sold on this. Even though the Sephora Instant Moisturizer was amazing it still wasn't hardcore enough to deal with the damage I had done to my skin with the allergic reaction. The dryness I had left over from the reaction was so intense it was painful and unbearable for me to make any kind of facial expression. Within ONE day of using this my skin was 1000% better! I hadn't been able to wear any foundation without it seperating and looking aligatorish because of the dryness and after one day of using this my skin was back to normal and I could finally wear foundation again and not look horrible! I also feel like because of the high spf in this it has helped with my hyperpigmentation. It hasn't caused me to breakout or become overly oily but I wouldn't recommend this for someone with oily skin...at least not the spf 50 since the sunscreen does make it a little more greasy. The only down side is that because of the high spf it does smell like sunscreen when you first apply it but once it absorbs into your skin the smell goes away. I use this in the morning after washing my face and before applying my makeup and it is currently in my skincare routine. Also, if you are looking for something to give you a nice healthy glow you may want to look into this! I hadnt really noticed until my grandmother commented on it but even when I dont wear foundation this has really helped to give me a nice healthy dewy glow without becoming greasy looking.
Ponds Wet Cleansing Towelettes in Evening Soothe*
Ok so I know I'm a little late jumping on the Ponds towelette band wagon but what can I say, I'm sorry! I LOVE these towelettes for removing my face makeup before washing my face. They have got to be the wettest premoistened wipes I've ever tried!!!! They smell so amazing and aren't harsh on my skin! They dont aggrivate my hyperpigmentation or cause any irritation and they take off all of my face makeup! I use a seperate eye makeup remover but I will go over my eyes a second time with this wipe to remove the oil and any leftover eye makeup. These are still a part of my routine but I dont use these daily. I will only use these on days I've worn makeup as a makeup remover and not necessarily as a face washing product. I have used these in a pinch for removing my eye makeup as well and they have worked great! They are a tad bit harsher on my eyes than a normal oil based eye makeup remover but they get the job done and are fine if you need an all in one. I haven't tried them with any waterproof makeup so I can't really speak for how well they would handle taking that off.
Since I wasn't able to really wear any face makeup until the very end of the month I dont exactly have a favorite for this month. I do have one honorable mention though!
Physicians Formula Mineral Wear Skin Correcting Powder
This powder is a swirl of pink, green, yellow, and flesh tone. It's suppose to correct redness and even out skin tone. It does exactly that! When I was unable to wear foundation this was the only thing I could get by with wearing. I used it sparingly since it is a powder and I was already insanely dry but it did help to combat all my hyperpigmentation and redness and make me a little more presentable! This wont cover any blemishes you have and unless you just have really clear skin I wouldn't reccommend using this solo. However, if you're looking for a very bare look and just need to tone down some redness this is great and it's also wonderful for setting foundation to help tone down any redness that might peek through.
This month was an awesome month for eyes!!!
MAC Paintpot in Painterly
This month I lost my MAC virginity and one of the things I purchased was a paintpot in painterly. I had seen so many gurus talk about this and use it in tutorials and since I was running low on my UD Primer Potion I figured I'd try out a new primer. THIS ROCKS! I think it may have forever replaced my UD primer potion... It gives my eye a nice base for colors so they really pop and because it has a thicker consistency than primer potion it really grabs onto my eyeshadow. Its great to use without anything over it too, if you dont feel like wearing a ton of makeup but dont want to look tired. It instantly brightens my eyes. The lasting power is amazing as well and it keeps my shadows from creasing or disappearing on me.
MAC eyeshadow in Omega
This has become my goto eyebrow color!!! I've had such a hard time finding an eyebrow color that doesnt come off so harsh against my pale PALE skin. This did the trick! Looking at it in package you wonder how the heck this is going to show up let alone fill in eyebrows but when you put it on your skin its like magic! If you're blonde, light brunette, or just have VERY pale skinned I recomend getting this and giving it a try as an eyebrow filler! It looks amazingly natural and wont come across harsh on your face. I just use an angled eyeshadow brush to apply it and then if I need massive staying power I'll throw a light coat of brow gel over it.
Maybelline Color Tattoo in Bad To The Bronze
Again late jumping on the bandwagon with this... I finally got my first color tattoos this month and Bad To The Bronze is definetely my favorite one. It lasts an INSANE time with no primer and it looks amazing alone or paired with another eyeshadow. Its great for an easy eye look and here lately, easy has been my goto look! :P
Revlon Photoready 3D Volume Mascara
I swear I think this mascara is magic. I did one coat with it and thought "hmm this is ok I guess" then I did a second coat and was like "HOLY CRAP! Where did all those lashes come from!" I normally dont like wet formulas or rubber bristle brushes, which this one has both, but WOW I was highly impressed! The only negative about this is that they dont currently have a waterproof formula. Hopefully they come out with a waterproof formulation in this soon and then I'll be all set!
Lips
Strawberry Shortcake Revlon Lip Butter
This color is such a pretty bright pink! Its so perfect for spring and I love the formula. I'm typically a chapstick girl so it was nice to find a really great lipcolor that is so moisturizing!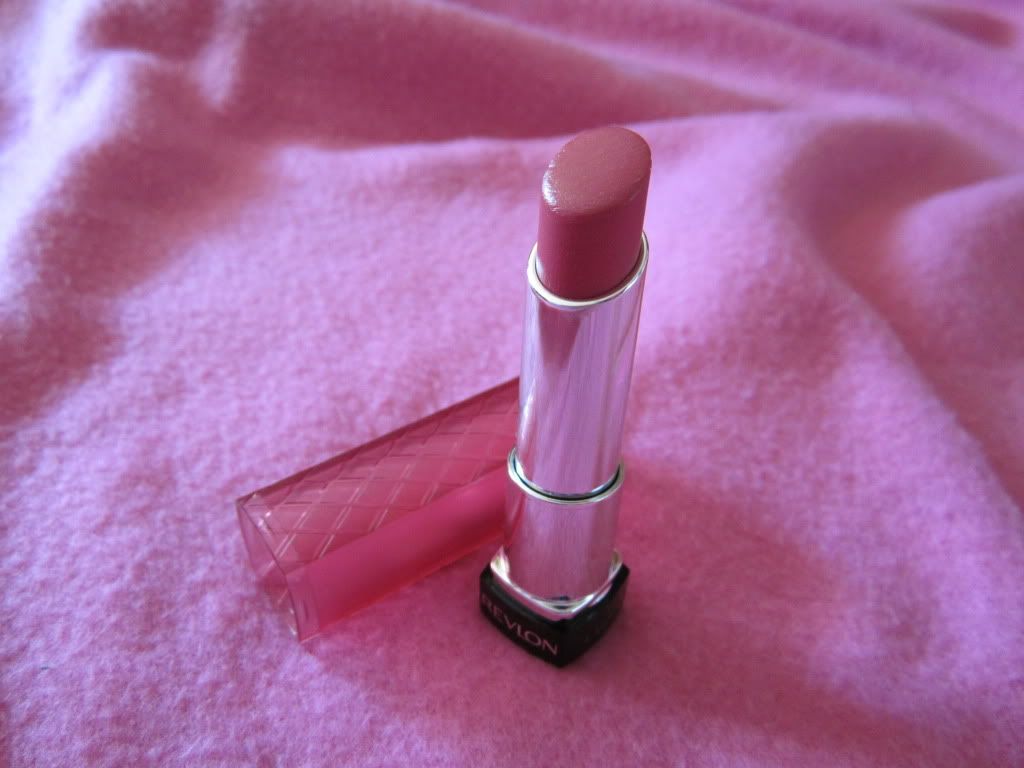 Revlon Lip Butter in Berry Smoothie
Yet another great lip butter! I love that this is a cross between my lipcolor but better and a little bit of a berry tint as well. It's great for a slightly sexier look or even to use with a natural no makeup look.
Misc.
Since I found a few odds and ends this month I like I figured I'd let you in on them as well!
This solid body bar is amazing for moisturizing and getting rid of that horrible dry winter skin just in time for spring and summer short season! I did a review on this already so I'll spare you a ton of details!
Cetaphil Gentle Cleansing Antibacterial Bar
This bar soap is awesome for using in the shower if you suffer from body acne. It contains Triclosan which fights bacteria and has been great for helping to reduce my body breakouts. I dont get a lot of breakouts everywhere. Without going into too much detail we'll just say I'll get breakouts on ocassion in certain places from sitting so much at work. This has really helped to heal them and stop me from having them as often. Its also very gentle and can be used anywhere on the body or even the face. Look for it in your facial skincare aisle NOT in with the bar soaps.
Coastal Scents 22 Piece Brush Set
I've already dedicated an entire post to these amazing brushes so I'm not going to go into much more detail other than just saying they are phenomenal!!!! I haven't really needed to reach for hardly any other brushes other than the ones in this set.