Omg! What could have come in the mail? ;)
That's right my fellow makeup addicts it looks like I finally got around to talking about my wonderful BH Cosmetics shipment!
I placed an order with them right before Valentine's day. They were having an amazing sale AND a promo to celebrate reaching so many followers on Facebook! I was able to scoop up the 88 Cool Matte Palette, 88 Tropical Matte Palette, 120 Palette 1st Edition, and a black liquid liner all for about $40 including shipping! THATS 296 EYESHADOWS!!!!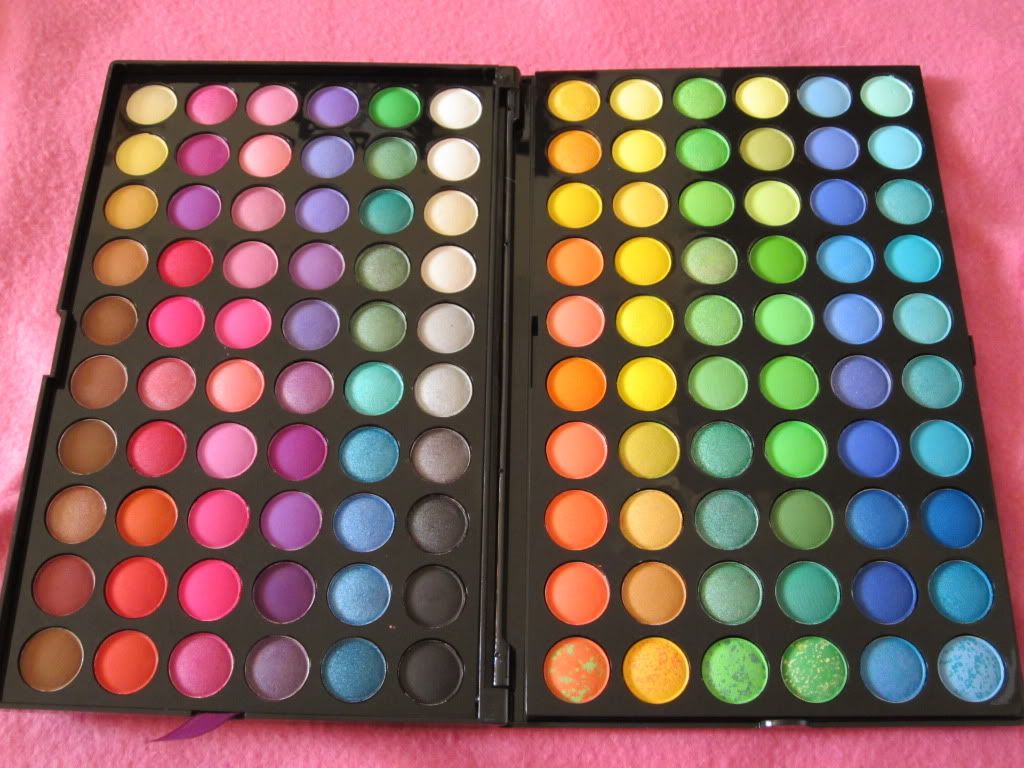 Here's a look at the 120 First Edition!
The 120 contains a combination of shimmer and matte eyeshadows! You also have some very neat splatter style ones that you can see along the bottom right row! The majority of these colors are OBVIOUSLY very bright but you do have a fair selection of neutrals to play around with and create some smoky looks!
Sneaky peeky of the 88 Tropical Matte!
The 88 Tropical Matte Palette contains an interesting color selection. You have a wide selection of neutrals ranging from plums, browns, grays, black, white, and a few greenish shades. Now what tropical themed palette would be complete without some shades that remind us of the tropics? Well you'll get several that fit the bill in this palette! It does have a few brighter shades of orange, blue, and teal as well as some very pretty pastels and creamy looking colors! A lot of pinks, oranges, and blues in this palette to remind you of the ocean and sunsets! I think this will be great for spring since I'm noticing a huge trend in colorful pastels and more vibrant colors. Plus with all those neutrals you can also pull off a more natural everyday look!
What a COOL palette of 88!
This is the 88 Cool Matte Palette! It has some very gorgeous greens, blues, and purples that definetely fall into the cool color scheme but it also has some warm bright colors like yellows, oranges, pinks, and reds! Several neutral shades help to round out this eyeshadow palette and give you tons of achieveable looks. Even though the palette is suppose to be matte there are a couple of shades in here that definetely do have a little sheen to them! No worries though because there isnt any major glitter to be had! All of the colors are pretty highly pigmented and will allow you to do a look that's funky or more everyday wearable!
Can't forget that free eyeliner!!!
The eyeliner comes in a liquid felt tip format. Surprisingly enough I really love this eyeliner! It's very easy to use and EXTREMELY pigmented. I swatched this on my hand and no amount of rubbing caused it to move or flake! This has definetely earned a place in my top favorite eyeliners!
OVERVIEW: Overall I felt like the products were really great! With the sale and promo that was going on I felt like I got a really great deal on everything and now have a wide arsenal of eyeshadows to use for tutorials or everyday! The pigmentation of these shadows was really amazing and they had pretty awesome staying power with a good primer. The eyeliner was phenomenal to be a freebie and I would highly reccomend it to anyone who struggles applying liquid eyeliner. The shipping was very fast and everything was very well packaged and wrapped! No eyeshadows were broken, missing, or otherwise messed up as you can see. I was very pleased with the whole BH Cosmetics experience and will more than likely purchase from them again! :)
*Great packaging and shipping!
*Gorgeous colors and themes!
*Eyeliner is perfect for beginners of liquid liner or novices!