As a lot of you lovelies may know several drugstores are having makeup sales! Riteaid, Walgreens, and CVS in particular! I managed to swing by my local Walgreens and nab a few goodies myself.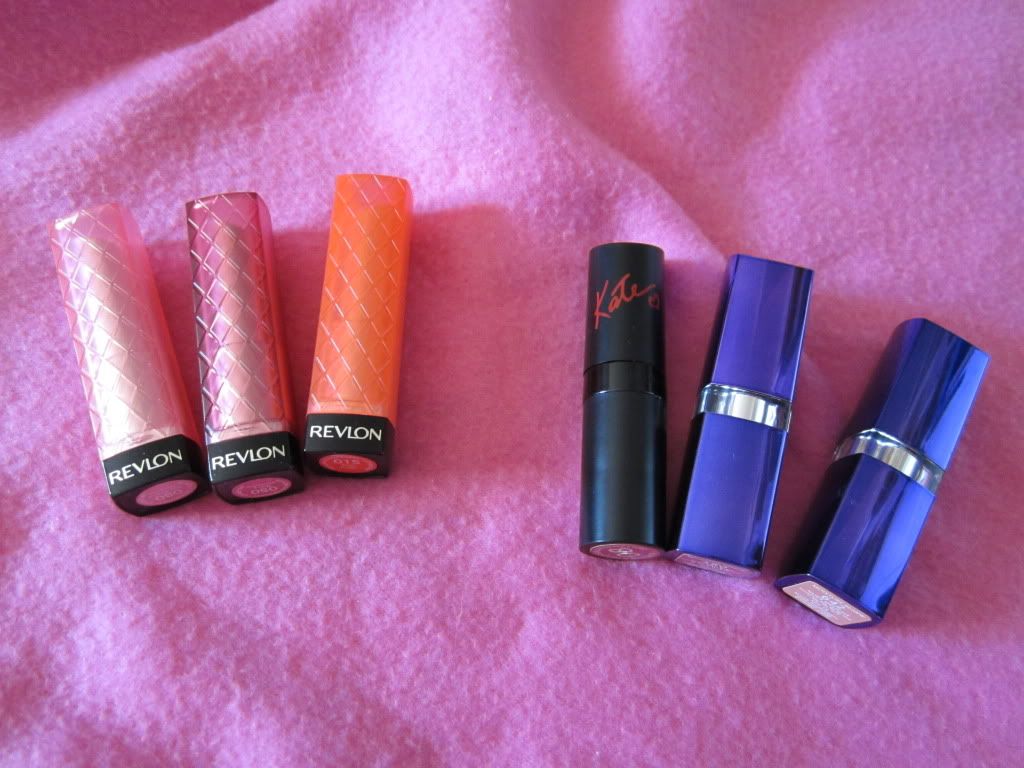 I know I'm a little late in the game but I just now lost my Revlon Lip Butter virginity thanks to the $3.00 off sale that was going on at my Walgreens! I managed to nab three of the ones I really wanted to try. There are still a couple of shades I may have to pick up later down the road but these three will do for right now!
Berry Smoothie is probably my fave of the three. Its this gorgeous berry color that is slightly on the neutral side as well. It gives a gorgeous color off and goes with just about any look for day or evening!
Strawberry Shortcake is my second favorite. Its a really pretty pale kind of barbie-esque pink. I feel like its going to be perfect for spring and also looks really good with a more natural look when you just need a hint of color on the lips.
Tutti Fruitti was the last one I got. Its probably one of the boldest colors in the lip butters line. Its this very bright orangey coral. I've been seeing orange lips popping up a lot in fashion magazines for some time now and have really been dying to try it without looking like a clown. I guess since I'm not use to wearing very bold colors this is going to take some getting use to! It is a very pretty and wearable orange but you have to be careful what looks you pair this with. I feel like eyeshadow is a must with this color because the first time I tried it I was sans makeup and it looked extremely out of place and odd, much more so than the other two shades. If you're looking for a fun wearable orange for the spring and summer months though I definetely reccomend this just be sure to take notice of the way you wear the rest of your makeup to get the best look overall! :)
I also picked up some Rimmel lip goodies at my Walgreens! They were actually on sale for 50% off AND I had a $1.00 off coupon to pair with them all! I managed to grab up 3 of them as well!
Vintage Pink in the Moisture Renew line is a very creamy berry shade. It contains no shimmer and just comes off as this gorgeous medium berry tone. Its a little on the cool side, almost a neutral berry but not quite. The formula is indeed very moisturizing and does have a decent amount of shine to it. Pair it with a gloss to really amp up the shine or wear it solo for just a naturally juicy look.
Nude Delight in the Moisture Renew line is the second Rimmel lipstick I picked up. Its a very light fleshtone nude color. Again this one is creamy and contains no shimmer. It does seem to have a hint of coral tone to it so it doesnt come off flat or make your lips look dead as some light nude lipsticks can do. Again the formula is very moisturizing and has a decent amount of shine with it. Layer it with a tinted gloss to give it more dimension or wear alone for a total nude lip.
08 in the Lasting Finish line was the last Rimmel lipstick I picked up. This shade is part of the new Kate Moss line within Rimmel. Like all the other Rimmel Lipsticks I picked up this one has no shimmer and is a creamy consistency. 08 is a very pretty berry color once again and its a little on the neutral side as well. Pretty close to the Vintage Pink shade but definetely warmer like a very light wine color. Even though this shade isn't part of the Moisture Renew line it isnt a dry formula. With it being lasting finish I somewhat expected it to dry my lips out but surprisingly enough it doesn't! Really love this color and formula! It is relatively long wear but you will have to reapply before the end of the day. It isn't smooch proof and will come off when you eat, drink, or makeout (ooh lala!) so just be weary of that as you wear it!
OVERVIEW: I'm glad I finally nabbed some of the lip butters because they definetely are all that they've been made out to be! As someone who prefers chapstick over lipstick this is a wonderful way for me to add color to my lips and still get great moisture! I also love all of my Rimmel lipsticks and they're definetely going to see a lot of use because the shades and formulas are just amazing!!!
Tidbits!
*Don't walk...RUN!!! to grab some lip butters!
*When wearing Tutti Fruitti Revlon Lip Butter be weary of what eyeshadow you wear!
*Rimmel Lasting Finish Lipstick is long wearing but not smooch proof! Not drying though so its a fair trade off in my opinion.