Beauty shopping makes everything so much better!
Since it was such a lovely day out yesterday and I woke up so early I decided to make a fun girly day of it! I managed to hit up not one but TWO malls, Walmart, Sally's, Kohls, and grab lunch all before 3pm!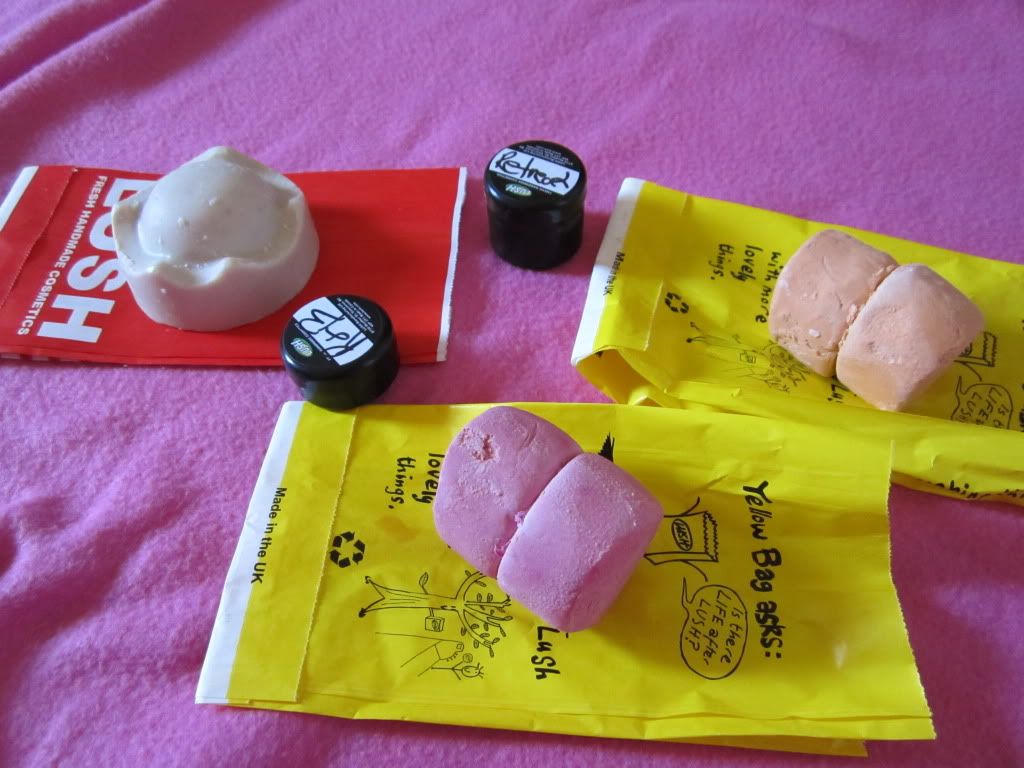 Lush was the first stop on my beauty marathon! This was actually only my second trip to Lush! I was going in after the King of Skin conditioning body bar but I obviously left with a little more than just that. ;) I picked up two of the bubbleroons bubble bars one in Rose Jam and the other Yuzu and Cocoa. The sales woman was also nice enough to give me two samples. One is there famous conditioner Retread and the other is a hair styling product called R&B.
My next stop of course had to be Sephora! I didnt have anything in mind to buy but being a beauty junkie how can I NOT buy anything?! I ended up finding a perfume I really liked so I picked up Jennifer Aniston's rollerball. It's a very soft scent with notes of Jasmine in it which I love!
Closer look at Benefit Full Glam Ahead and Tarte Intro to Amazonian Clay
I always bet sucked in by the minis and travel sizes up by the register so I ended up getting the Benefit Full Glam Ahead set to try out. I've never used any of the products in it so It will be interesting to see how I like them. I also decided to finally cash in my beauty insider points since they finally had something I felt was worthwhile! I ended up getting this very amazing Tarte collection called Introduction to Amazonian Clay. It comes with a full size LipSurgence lip pencil in Fiery, a fullsize bronzer in Park Ave Princess, a EmphasEYES eyliner in black, sample size Recreate face primer, and a sample size Smooth Operator finishing powder. To be a 500 point perk I think this was an incredible deal and I cant wait to try out these products!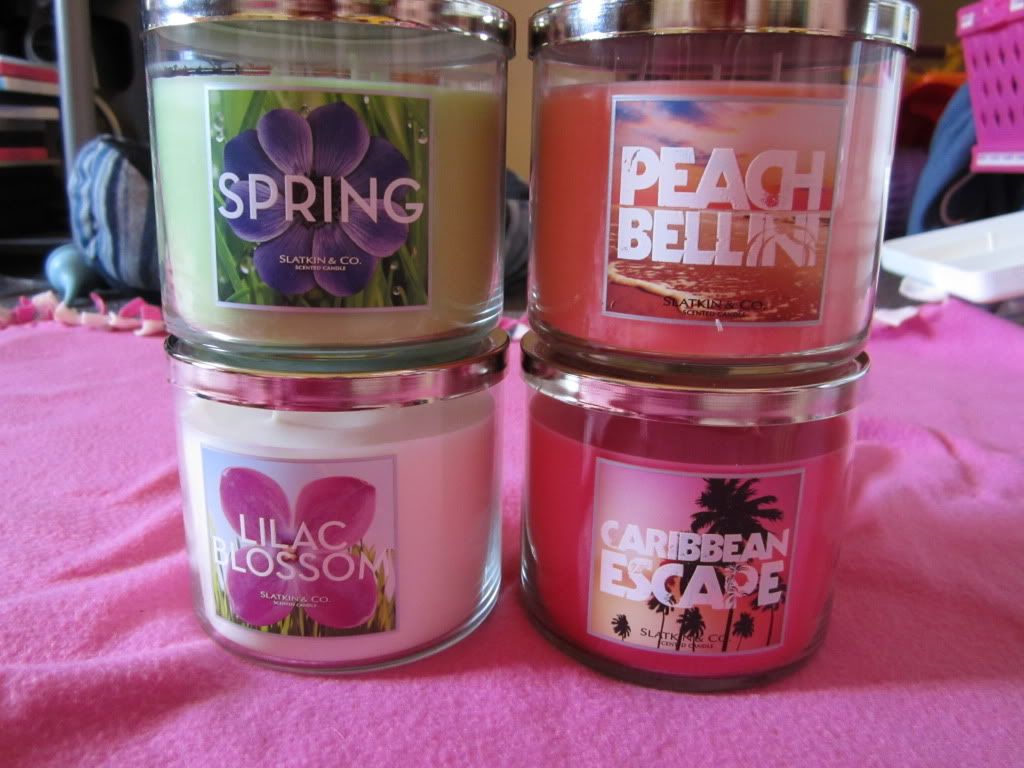 I'm pretty sure you can guess where I went next. How can you go on a beauty hall and not get something to make your home smell beautiful?! Bath and Body Works candle collections are definetely my favorite. They are one of the few candle companies that I feel make a candle that smells the same burning as it does unlit. I'm LOVING the Lilac Blossom right now! For me Lilacs hold a special place in my heart. It reminds me of when I was a little girl and living with my grandparents. They have this beautiful Lilac bush in the backyard that I use to always pick the flowers off of. I feel like its so hard to find a candle or room spray or anything of that nature that TRULY smells like the real deal Lilac! This candle is completely on point with the scent though! Since Bath and Body Works has their wonderful 2 for $20 sale going on with their candles I decided to pick up a few since we are heading into the Spring and Summer months before long. I grabbed two spring scents and two summer to help get me in that warm weather mood! I cant wait to have my appartment smelling like a garden or tropical beach!

My last beauty related purchase of the day was at Sally's. I didnt go in for hair care, nail goodies, or even makeup.... No I went in for a stippling brush! Sally's doesnt carry a wide range of makeup brushes in fact they only have one line but they do have relatively inexpensive brushes that are of high quality. I just made an order to Coastal Scents for a new brush set but the one thing that brush set was lacking was a good stippling brush! I didnt need anything crazy fancy like MAC and I couldnt really order it from Coastal Scents and wait for it to get here since I needed it now. SO I just popped into my Sally's and picked up this beauty for $12!
I really did have a wonderful time shopping and sometimes we all just need to go out with a little extra money and just buy some goodies that we want! It's very relaxing and refreshing to just take an entire day and goto some nice department stores or your local ULTA or Sephora and just play in some makeup! The next time you've had a stressful week or month maybe you should just schedule a few hours out of a day and just go and have some girly fun! ;)

NOTE: If you would like me to review any of the products that I purchased please leave a comment down below!
As always...have a bewitchingly beautiful day lovelies!